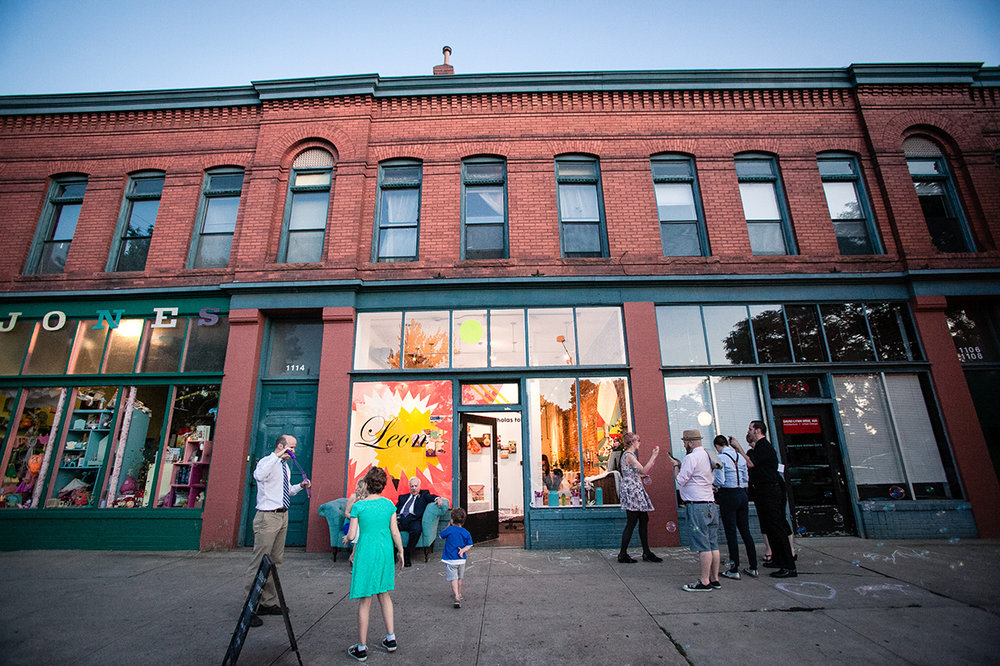 Leon is an innovative gallery that intentionally challenges limitations. We provide an environment for artistic exploration that is free from the market pressure and economic constraints of commercial galleries.
We challenge our artists.
We challenge our audience.
We challenge the art market.
Leon is both a non-profit gallery and creative space dedicated to mentoring emerging artists across multiple disciplines. We aim to nurture and promote each artist, assist them in the development of their practice, and connect them with greater and more ambitious career opportunities. We provide our local community with a welcoming environment in which they can explore and discover the artistry of creative individuals from Denver, and beyond.
The impact that Leon has made within the Denver community over the past twelve years is impressive and perhaps surprising, considering its humble beginnings. Leon continues to provide Denver with a physical space and socially engaged community that has a particular exuberance. Patrons have likened the energy of Leon's events to those of NYC's SoHo of the 70's and 80's, the salons of Montmartre during the days of early Modernism, Cabaret Voltaire in Zurich during the formative days of Dada, or the groundbreaking Ferris gallery in LA during the 60s. The level of influence and interest that Leon has garnered since 2011 is due to the owner's passion and dedication to the arts and culture of our community and our time.
Executive Director Eric Gustaf Nord is an enthusiastic supporter of local art and culture in Denver. We invite you to stop in to see some of the most creative artists and innovative exhibitions in the city.
1112 E 17TH AVENUE
Denver, CO 80218
ph 303.832.1599
ifoundleon@gmail.com
HOURS:
Wednesday – Friday 10 pm – 6pm
Saturday – Sunday 12pm – 5pm
And by appointment.
Our Nondiscrimination Policy:
Leon Gallery does not discriminate against any person based on age, race, sex, color, creed, religion, national origin, native language, sexual orientation, transgender status, gender identity, gender expression, genetic information, ancestry, marital status, veteran status, military status, political service or affiliation, neurodiversity, or disability.
Our DEI Statement:
Bigots aren't welcome. Everyone else is.
Leon Gallery is an inclusive space where we foster artists and viewers. Central to our mission is our ability to support artists regardless of age, race, gender, sexuality, and ability.
Board Members:
Michael Dowling, Artist Representative
Jayne Butler, Grants & Outreach
Eric R. Dallimore, President
Noah Larsen, Website & Tech
Heather Link-Bergman, Marketing
Alyssa Mora, Secretary & Design
Rachel Ralph, Grants & Writing
Advisory Board Members:
Camille Rose Shortridge, Tya Anthony, Frank Lucero, Laleh Mehran
Contact: