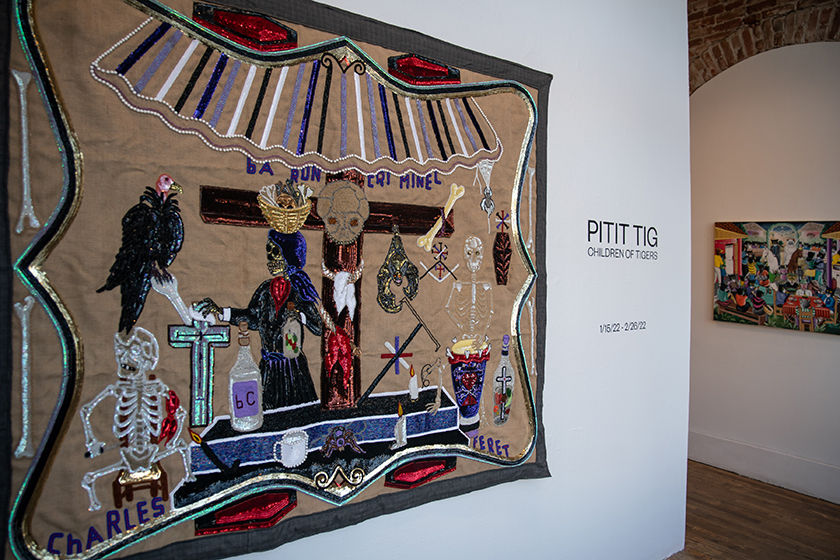 The Exhibition Pitit Tig/ Children of Tigers, curated by Viktor El Saieh, is not your ordinary group exhibition. El-Saieh, who was born in Port-au-Prince, Haiti, brings to our already colorful Colorado, snippets of Haitian life, culture, and history – through art.
Pitit Tig/ Children of Tigers is a celebration of community as much as it is an expression of what it means to be Haitian. On opening night, Viktor and I spoke about the Haitian Revolution and how having knowledge of that history influences our lives today.
If you are unfamiliar with Haitian and Caribbean art, you are in for a treat. Bright and warm colors juxtaposed with saturated cool colors, movement, and organic subject-matter are in abundance. The title of the show is based on the Haitian proverb; Pitit Tig, Se Tig—The children of Tigers, are Tigers. The child of the Tiger is a Tiger.
It means, to me, that we cannot deny the nature of a person.
Prior to walking into the gallery, you are greeted by an enormous tapestry by Feret Charles. From outside of the gallery, this textile piece evokes the feeling that you are either about to enter a Voodoo temple or it is a celebration of Fèt Gede, the Festival of the Dead. Roughly 50 percent of the population of Haiti practices the ancient religion of Voodoo, which was formally recognized by the Haitian government as a religion in 2003. Feret creates an altar using traditional Haitian spirituality and Christianity—perfectly illustrating the intimate relationship between Haitian people and the dead.
Other than Viktor, none of the artists in this exhibition are currently in the United States, but their presence is felt here in Denver. In Erzulie, by Lissa Jeannot, the sculpture stands guard in the middle of the gallery, armed with a machete—in a stance that is reminiscent of Michelangelo's David. For me, she is the unofficial matriarch of the show, accompanied by several other feminine figures in animated poses – she's tasked with making sure everyone is staying out of trouble.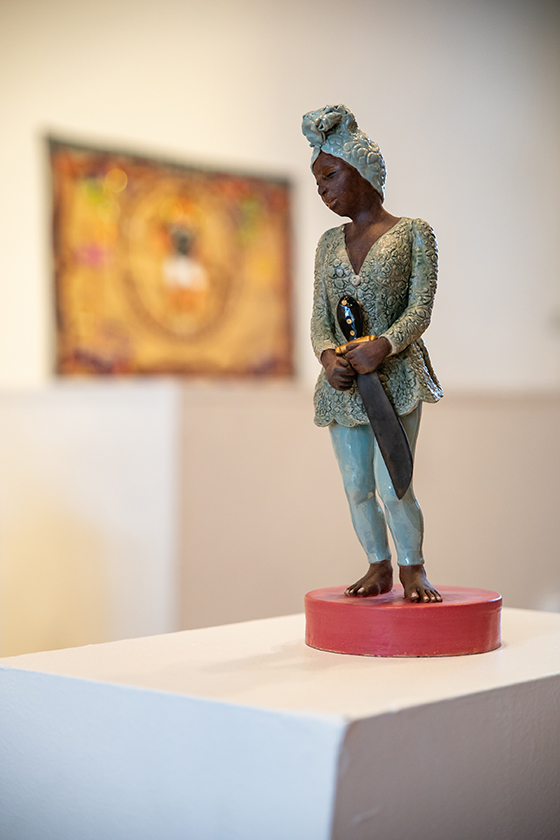 This Black History Month will mark 29 years since my family and I immigrated to the United States. My journey has not taken me back to Haiti since, so for me, this show was a homecoming. A reunion of my roots and ancestry. I do not remember much about Haiti, but I remember an island that marches to the beat of its own drum – a culture rich in its traditions of fighting European colonialism and unwavering perseverance in the face of natural disasters year after year.
My heart is happy that proceeds from the show will go directly to the artists and organizations that live and work in Haiti.
Despite these extreme circumstances, my people continue to create. Pierre Louis, another artist in this exhibition, has a signature style based on anthropomorphic cats and his work really gives life to the gallery. To me, his paintings represent the community of artists in this show—the revolutionaries, facilitators, teachers, leaders, and helpers that have all played their role.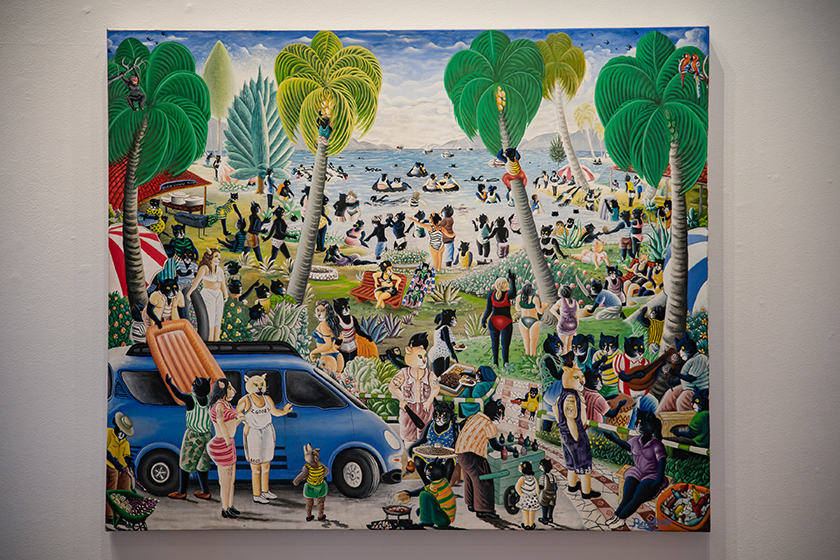 Denver has the potential to become a hub for art, fashion, and diversity. As our city continues to grow, creating space for work like Pitit Tig is imperative if we want to establish an equitable Arts culture. As states across the country are actively restricting Black history and voices from our schools – reminiscent of a more segregated America — please take some time to stop by Leon gallery to see work from descendants of the Western world's first Black-led republic.
Yvens Alex Saintil
Yvens Alex Saintil is a multidisciplinary artist born in Port-au-Prince, Haiti and raised in Queens, New York. Saintil came to art after serving in the United States Army for 10 years, where he was awarded a Purple Heart for his service in Iraq as an Infantryman. He currently resides in Denver and is pursuing a degree in art.
​Yvens is an outspoken advocate for police reform and accountability, and veteran mental-health care. His work focuses primarily on racial justice and activism, with a keen interest in storytelling, human behavior, and capturing the moment. His intimately photographed images of Denver's protests in response to the murder of George Floyd, by former Minneapolis police officer Derek Chauvin, during the summer of 2020 have been exhibited in group shows in Denver, Arvada, and Lone Tree. ​
While photography is his primary discipline, Saintil is currently working in mixed-media, sculpture, and installation art.  www.alexshootz.com