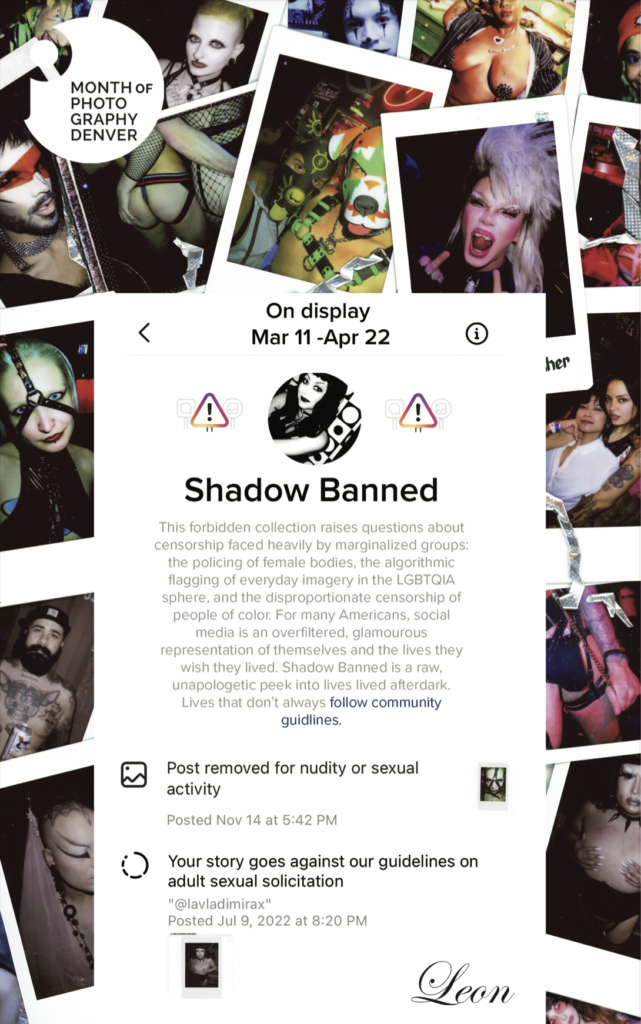 The photographer known for her compelling portraits of Denver's counterculture, Shadows Gather, will unveil her second solo show as part of Denver's greater Month of Photography. Shadow Banned will be on display March 11th thru April 22nd at Leon Art Gallery and celebrates all that our culture keeps in the shadows–with a special artist reception Saturday, March 11th, from 7-11pm.

Shadow Banned showcases photos not seen anywhere else, photos that have been banned, flagged, and removed from social media. This forbidden collection raises questions about censorship faced heavily by marginalized groups: the policing of female bodies, the algorithmic flagging of everyday imagery in the LGBTQIA sphere, and the disproportionate censorship of people of color. For many Americans, social media is an overfiltered, glamourous representation of themselves and the lives they wish they lived. Shadow Banned is a raw, unapologetic peek into lives lived after dark.

On display along with a collection of over a thousand original Instax images, Shadow will also display her most iconic banned images, blown up and enlarged in a way that captures the details. From the scratches, lipstick smudges, and dirt from the alley, these photos capture a historic moment in time.
Artist's Bio:
Often compared to Nan Goldin and Andy Warhol, Shadows Gather is a photography project that documents the alternative nightlife scene and the colorful individuals that thrive in it. Based out of Denver, Colorado, Shadow is a photographer who uses non-conventional techniques, such as pairing a Fuji Instax Neo Classic Mini with lighting from an iPhone flashlight, to create striking instant photographs that preserve and celebrate underground culture. In her photos, you'll find energetic portraits from a mixture of scenes: gutter punks, drag artists, and creatures of the night.

Shadow has directly experienced the growth and cultural changes that have occurred in Denver and has focused her work on ensuring that the visual narrative of her subjects remains as the city continues to evolve.She celebrates the beauty of those on the cultural fringes and provides a sense of community and a safe haven to folks that have been deemed misfits by mainstream culture.

Following the project launch in March of 2019, Shadow has become a staple in music venues, nightclubs, and bars across Denver, Austin, Texas, and Los Angeles. This is her second solo exhibition.
PRESS: