Write-up by Zavi Kang Engles
A possible linchpin of Ana Anu's exhibit Call Your Grandmother hangs on a central wall: a sinuous weave of knitting needles and yarn spelling the words ravel and unravel. By a delightful quirk of the English language, both words can mean the same thing: "to cause to come apart by or as if by separating the threads of." Anu's works invite viewers to feel into the fray of urgency related to environmental collapse, political chaos, and liberatory praxis. Yet their sustained attention to beauty and their centering of the wisdom of grandmothers carry us through overlapping griefs and anxieties towards reverence and uplift.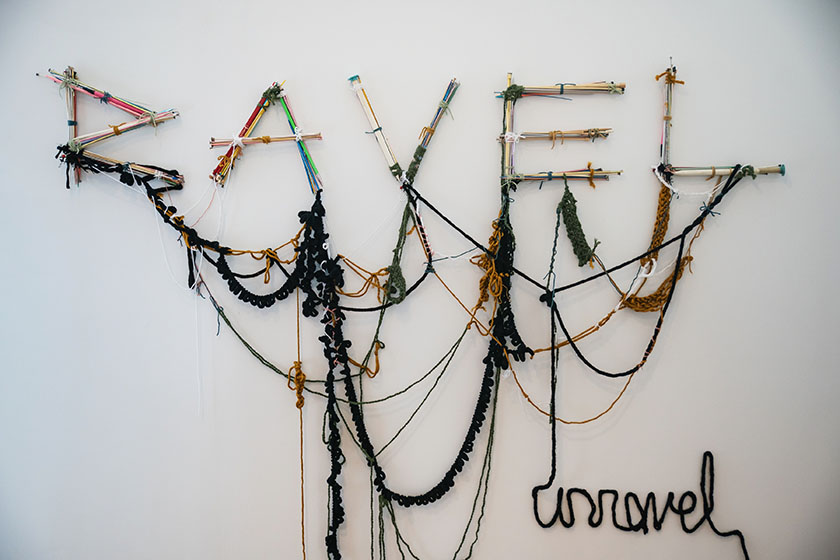 The poet and multimedia artist wanders freely through form, drawing on materials and objects as diverse as spray painted ironing boards and a vintage phone reciting poetry to a bed frame woven with words made of meadow flowers. A sincere political ethos drives their work, one that reclaims the radicalism of our oldest traditions, including the domestic ingenuity that has enabled women and elders to live through impossible circumstances. Another wall flickers alive with a recent film project titled Water Bend, which features an interplay of hands, poetry, and the shimmering light on a river.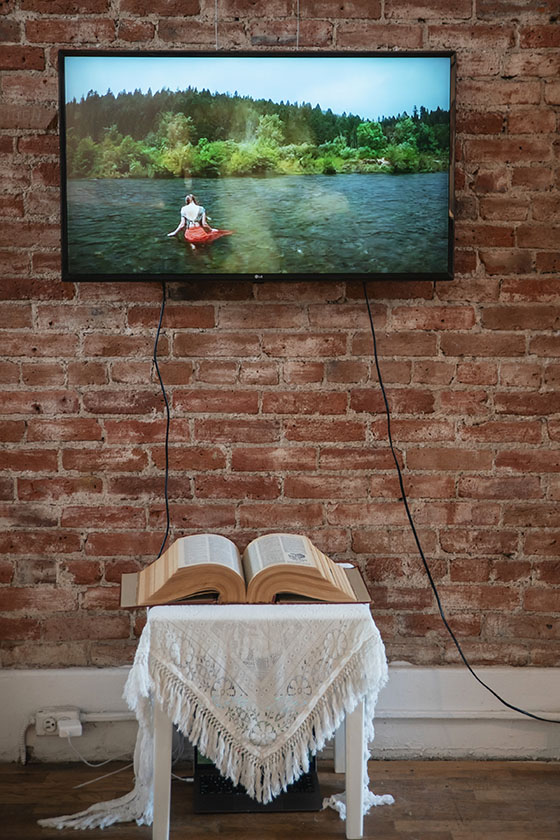 What emerges is a commitment to memory that both transcends words and grounds viewers in the reality of the natural world that has always held us. In this tumultuous moment of seemingly intractable political and ecology collapses, Anu offers a way of knowing, a way of learning, a call to action: call your grandmother. Hold your people close.
Zavi Kang Engles is a poet, writer, and researcher. Her writing has been published in The Rumpus, Broccoli Magazine, Chicago Reader, and others. She is currently the Anne Waldman fellow at the Jack Kerouac School of Disembodied Poetics. She is also an associate editor of Apogee Journal. Find more of her writing at www.zavizavizavi.com