Pitit Tig / Children of Tigers

By Adolf Alzuphar

Walking into the Pitit Tig / Children of Tigers exhibit is entering a kaleidoscope of form. Form
meaning formality for one: paintings, drawings, and sculptures being traditional and most of the
mediums. Form meaning articulation, Pitit Tig / Children of Tigers an exhibit primarily of
figurative art. Form meaning transgression, with the exhibit's Vodou flags transgressing
accepted notions of fine art.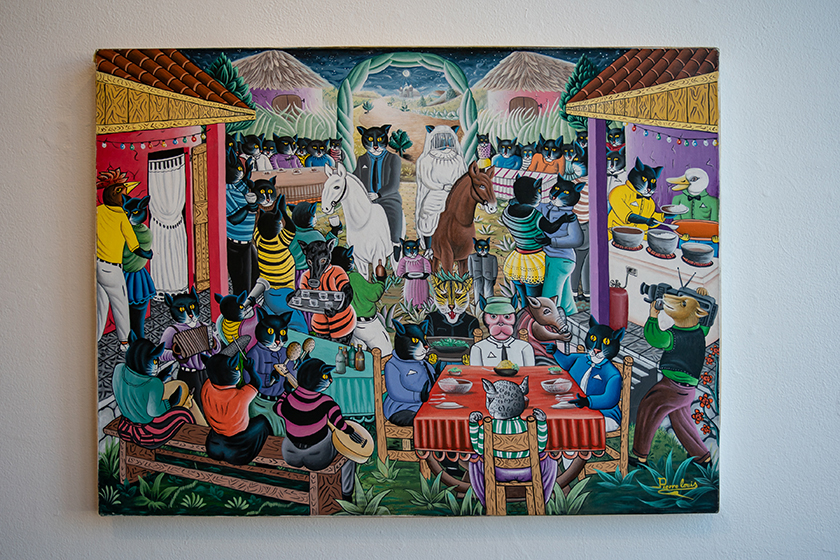 Two cats, filmed by a dog, are newly married, each on a horse. Hooded people fish a black and
red flag out of a body of water. A woman holds a machete as a small statue. A woman stands
with her hands behind her back, her eyes pensive, her hair the same color as a white bird and
the white eggs of a nest. A colorful flag full of bottles, a vulture, a skull, a cemetery cross, and
the words "baron criminel". Mer-people embracing. It all bursts, full of confidence. The art is
Haitian art, meaning that it is made by Haitian people, which makes most of it a mystery even to
the Haitian observer. This is because Haitian culture is a psychenautic culture, full of the altered
states, and corresponding subjectivities, that Vodou produces.

Certainty, about Haiti, ties it all together, taking symbolic form in the work of all the artists,
Pierre-Louis, Marithou, Viktor El Saieh, Lissa Jeannot, Herold Pierre Louis, Ferret Charles, Mme
Moreau, Wildaine Charles, Jacky Charles, Hugue Joseph whose works make up the exhibit.
Some pieces are even mannerist, Viktor El Saieh, and Herold Pierre Louis being the two artists
most practicing both freedom and traditional form.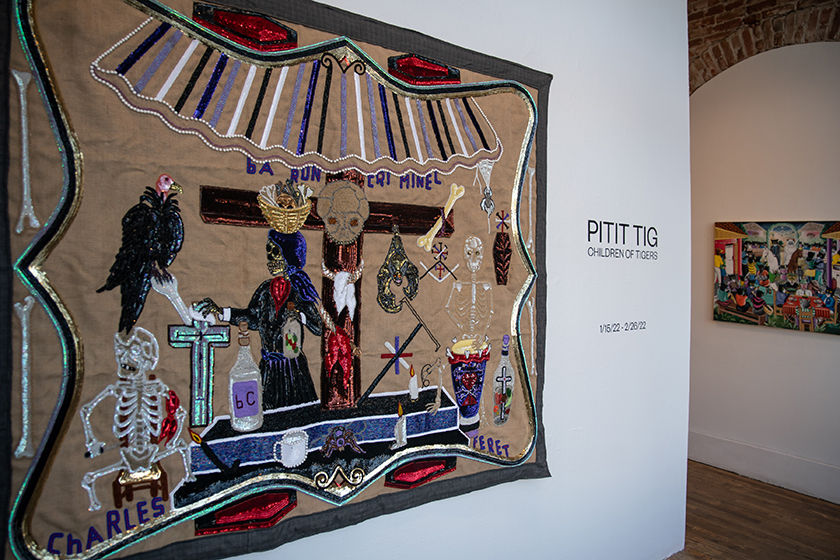 The exhibit's Vodou flags invite the observer into the realm of Vodou prayer, vodou flags being
how a lwa, a deity, is asked to visit a temple. They are one of Haiti's bold contributions to global
contemporary art and the pieces chosen for Pitit Tig / Children of Heroes are spectacular.

It is not the nationality that should be the focus of the observer, but the hands that made the
pieces. These hands are hands that have yet to be socialized by intensive industry and post-
industry, as American hands are. Farming, healing, card playing, etc, are what Haitian hands
are mostly engaged in, the majority of Haitians being farmers. It is these hands that have
sculpted, painted, and sown the art of Pitit Tig / Children of Heroes without hesitation.

Thus, the chimes of both hospitality and freedom ring inside after having made it through the
exhibit. It is a noteworthy one, full of the promise of art: that our perspectives can be widened
thanks to art. Cold, snowy, Denver meets tropical Haiti, and realizes that any bridge that exists
between the two can be walked, and perhaps, in the long run, made into art itself.
Adolf Alzuphar is a poet who contributes to The Brooklyn Rail, LARB, and other publications. He currently works in philanthropy.