Opening Reception – Saturday, September 23rd, 7:00pm – 11:00pm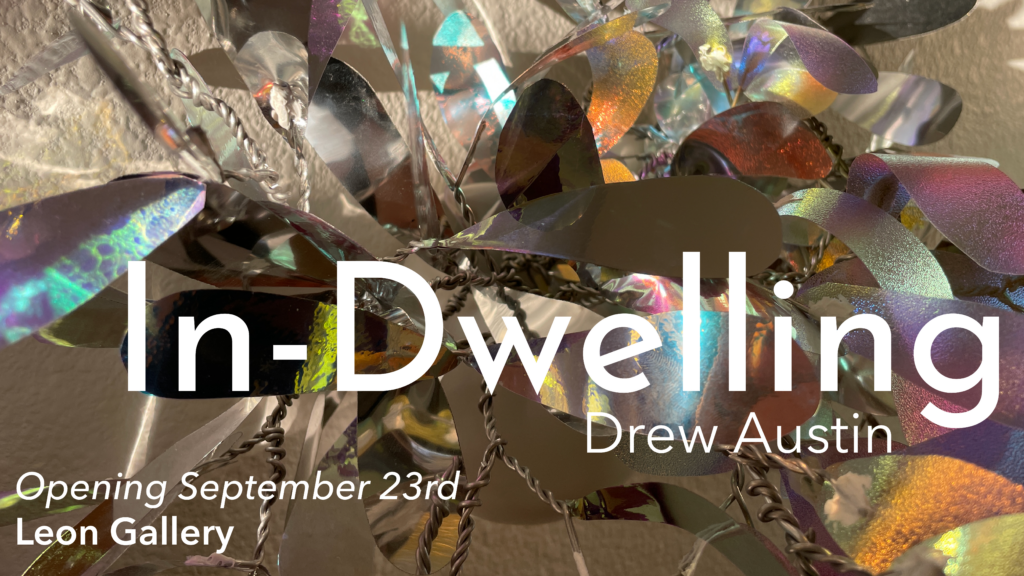 The wide range of objects and images that artist Drew Austin creates, repurposes, or reimagines, seem to shimmer, sparkle, reflect, or refract, offering each viewer sensorial experiences that either demonstrate or allude to the ephemeral, the dynamic.
Austin's creative inspiration stems from a deep appreciation of the phenomenological. His emphasis is not solely on the art object itself, but is presented in tandem, or entangled with the individual's experience and interaction with it, in real time, across time. Light, shadow, layering, translucency, and reflection, are all integral to the appreciation and understanding of the work. His art evokes personal, intimate acts of seeing, truly looking at the world, in awe and wonder. The moments, minutes, and memories, that he encapsulates within his work are expressively potent, yet remain mercurial, evanescent.
OPENING RECEPTION: Saturday, September 23rd, 2023 7pm – 11pm.
ONGOING EXHIBITION: Saturday, September 23rd, through Saturday, November 4th, 2023.
All Leon exhibitions are FREE and open to the public.
GALLERY HOURS: Wednesday – Friday 10am – 6pm Saturday – Sunday 12pm-5pm
In-Dwelling
In Japanese, there is a word for the sensation of light dappling through leaves and branches. The word itself, Komorebi, is quite beautiful and the very idea of a concept wrapped into a single string of letters makes me think about how the English language lacks a word to describe such gorgeous phenomena. Our culture–and the very boundaries of our language–fail to make space for this form of noticing, so what does this say about our discomfort with impermanence, with the middle spaces between light and dark?
Enter the domain of In-Dwelling. An unfolding of peaceful wonder, full of both radiance and shadow. A space nestling personal narratives, private experiences, and the kinds of emotional content typically too nuanced for language. A world of objects created and found and expanded and questioned. Something has or is dwelling here, waiting, welcoming, returning, honoring, repeating its cycles.
I find and work alongside objects, often considering it a collaboration. Gravitating towards objects that speak through their very nature, hold potential, or vibrate as an energy beacon at thrift stores and vintage malls. I'm wholly interested in the object sometimes, only adding a small mark, changing the orientation, or creating an object's companion. These objects act as vessels of our own reflections, inviting us to think about ourselves and our experiences through the lens of this other physical thing.
I consider light and shadow fluid objects—creatures that go out of their way to find "home" or solace, whatever the situation, with their physical bodies (much like I do as a human being). Reaching into every crevice of the world, light and shadow articulate the land, connect and obscure boundaries, and define each object in our three-dimensional reality. This fluidity and intangibility define and concretize; illuminate the presence of a thing that might in the same instance reveal yourself reflected within it.
For me, the inhabitant objects located within In-Dwelling—the lamp, drawings, found objects, created objects, and you—are all welcome artifacts in the interplay of light and shadow. It's all a chance to explore, even outside of our language, what it is to be between worlds, to be impermanent, and to leave a mark. It's in this personal reflection where collective resiliency and understanding are built.
BIO
Drew Austin (he/him, b.1996) is an interdisciplinary artist and curator living and working in Denver, CO. He grew up in Great Falls, Montana, and attended the Rocky Mountain College of Art + Design, in Denver, which he graduated from in 2017 with his BFA as Valedictorian.
Austin is the Curator of Visual Arts at The Dairy Arts Center in Boulder, CO, where he exhibits the work of artists from all across the country (and sometimes the world) in their four rotating gallery spaces. He previously worked as the Exhibitions Curator for ReCreative Denver as well as put together independent curatorial projects in spaces such as Redline Denver, The Temple Artist Studios, The Digital Armory, and Alto Gallery.
Portrayed primarily through drawing, sculpture, and light-based installation, Austin's work functions as a conduit for understanding and comprehension of everyday things— mundane situations, domestic space, slow growth, and light—both large and small in a human-dominated world.
www.studiodrewaustin.com
Instagram @studiodrewaustin